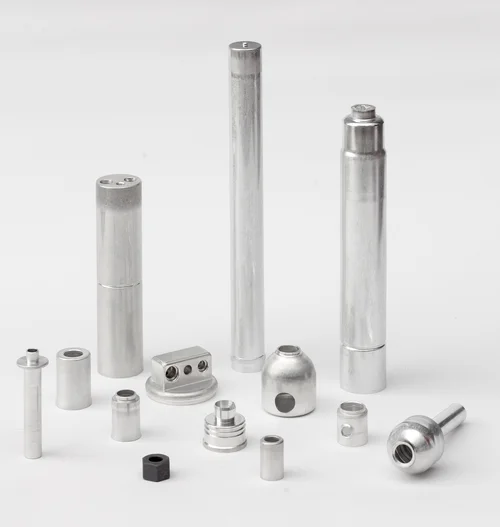 Parts for automotive air-conditioning systems
Based on customer drawings, we produce parts for air-conditioning systems in motor vehicles such as:
— Hose pressing sleeves
— Silencers
— Power pack housings
— Dry-filter housings, etc.
Material: Aluminium and aluminium alloys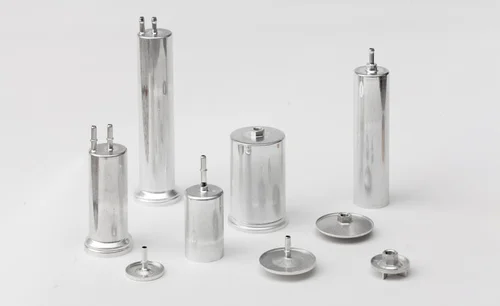 Fuel filter housings and lids
We have the equipment to produce all designs and shapes of aluminium for the automotive industry. With high-quality standards and advanced technical know-how, we meet the highest requirements in this product group.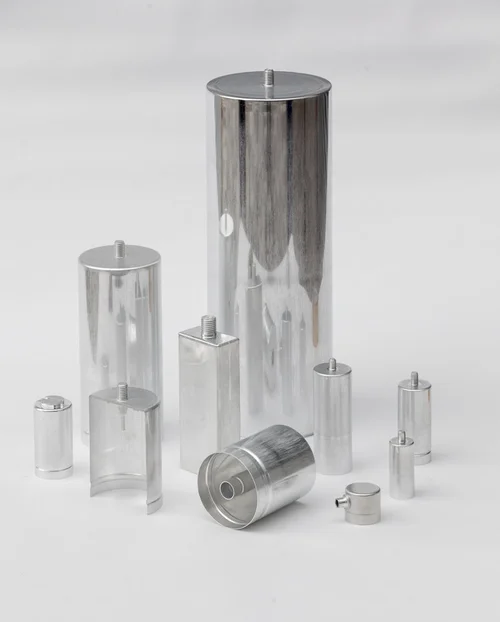 Housings for electrical capacitors
Capacitor housings for application in all common sizes and designs:
— with threaded pin
— with smooth bottom
— with inside pin
— with beaded rim
— with internal pipe
— with bead
— with inside and outside welding pin
Our capacitor housings with jacket slit valve prevent explosion in situations of unexpected high gas pressure. The rated break point is obtained by a partial reduction of the wall thickness. The product remains leakproof and non-permeating up to the level of the critical opening pressure.
German patent No.: P 41 33 340.3 33

Material: Aluminium, aluminium alloys and copper
Material: Aluminium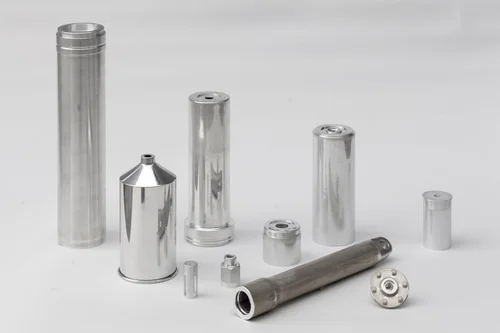 Special pressed parts
We produce extruded parts with machining and non-cutting processing for many applications.
The following technologies are available:

— thermal treatment such as quenching and tempering of aluminium alloys as well as soft annealing and recrystallization annealing
— CNC turning and milling
— chipless processing such as upsetting, embossing, punching, thread forming
Material: Aluminium and aluminium alloys